ISO certification
SEIC is proud to announce that it has obtained ISO 9001:2015 certification for all its business areas: energy, energy transition, installations and multimedia.
Support action 2024
PARTICIPATE in our support action
As every year, we invite you to choose one of the two projects we'll be supporting in 2024. Make your choice, vote and automatically enter the grand prize draw.

New store opening hours
For exceptional reasons, our store will be closed on Wednesdays for an indefinite period. Our multimedia advisors and reception remain available at normal opening hours.

Eco-energy range
Choose the energy production method that matches your needs and values for more sustainable, responsible consumption.

seic

your regional partner
Active mainly on the Côte d'Azur, SEIC supports private individuals and professionals in the fields ofenergy, energy transition, installations and multimedia. 
125 years of commitment
A wide range of professions and skills
Over 140 GWh of electricity distributed in our service area
60% of the electricity supplied by SEIC is of renewable origin
Two hydroelectric plants
Multimedia products with fiber optics 
A single point of contact for all your electrical projects
24/7 breakdown service
Friendly, available and attentive. We received excellent advice and support for our photovoltaic project. Nothing to complain about, with the added security of working with a local company that cares about its customers over the long term. Highly recommend! 
Our current offers

at SEIC
Build your electrical installations with our specialists. Whether it's a new build, conversion or renovation, they'll support you throughout your project.
Turn your roof into a source of clean, renewable energy by installing photovoltaic panels. As an expert in sustainable energy, SEIC can help you with your solar projects.
Take advantage of BLI BLA BLO Combo offers and adapt Internet speed, TV style and mobile subscription to your needs.
Advantages

Why choose SEIC
The benefits of training with SEIC are integration and state-of-the-art equipment.
What's more, it's an accredited training company. 
Bleon Sahiti
Network installer
Joining SEIC means working for a company that is one hundred years old, yet at the cutting edge of technology, offering all the advantages of working in a human-scale structure and in a modern, motivating environment.
What are the advantages of working for SEIC?
As a responsible company, SEIC has been integrating the principles of sustainable development into its service offering for many years.
Questions and answers

our advisers at your service
the store
address - opening hours
the store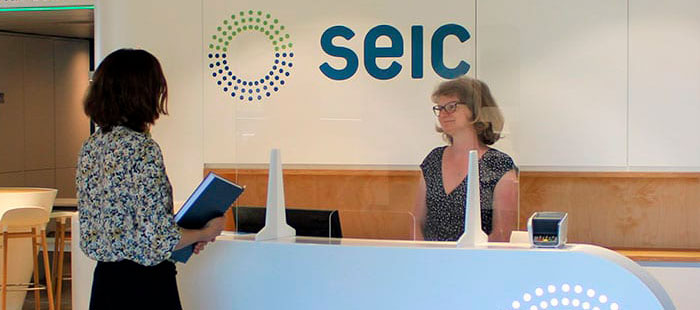 The SEIC store in Gland,
a place to advise you!
A product, a service, a solution, whatever your need, our advisors will answer all your questions about our activities. Visit us at the SEIC store.
address - opening hours